Explore our Overnight Oats
Packed with the goodness of natural ingredients,
added probiotics and calcium
Introducing MiHeSo Overnight Oats
Our Oats are better than yours, we bet!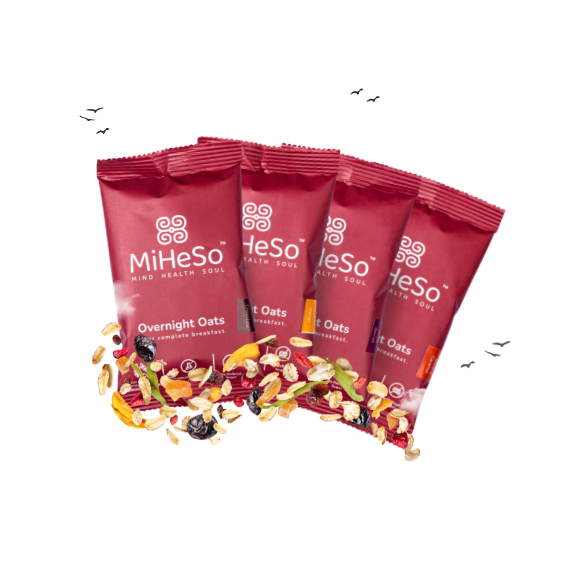 What's in it for you?
As our ever-evolving modern lifestyle continues to push us away from living a healthy life, we are in a constant search for alternatives that can seamlessly fit into our daily routines and keep us charged throughout the day.
Introducing Overnight Oats! Crafted to revolutionise your breakfast game with a nutritious and delectable indulgence, these healthy oats are available in 4 drool worthy flavours and a box of assorted ones.
With the goodness of natural ingredients and no artificial flavours or refined sugar, we offer you a breakfast that cares for you!
Power packed ingredients
Chia seeds
Enriched with antioxidants
Basil seeds
Flax seeds
Pumpkin seeds
Almonds
Lowers cholesterol levels
Raisins
Anti-inflammatory properties
Probiotics
MiHeSo Diaries
Explore instant recipes, blogs and more
Cooking alters the nutrient content of the food and soaking the oats overnight provides 25% more nutrition than its cooked counterpart. Soaked oats also have increased resistant starch which helps in digestion, aids in weight loss, increases feeling of fullness and decreases insulin spikes. If you wish to read more about what makes Overnight Gluten-Free Oats a better choice we have a whole blog post HERE
Yes, MiHeSo Overnight Oats are tested and certified gluten free.
We love our Overnight Oats chilled but you can totally have it warm as well. If you would like to have it warm, we suggest warming the overnight soaked oats or letting the oats come to room temperature after taking it out from the refrigerator.
If you forgot to soak the oats beforehand, you can prepare it hot by adding piping hot milk to the contents of the sachet and keeping it covered for 15-20 mins until softened.
Absolutely! You can use any milk of your choice to make these. However, we recommend using unsweetened milk as our Overnight Oats are already sweetened with jaggery.
Please don't use water to make Overnight Oats. It will greatly affect the taste and overall experience. Think of it as eating cereal with water!
Our Overnight flavoured oats already contain all the ingredients you need to make it from scratch. It contains rolled oats, jaggery, almonds, raisins, flax seed, chia seed, pumpkin seed, basil seed, natural fruit powders and probiotics. Since we have already added these, it saves you the hassle of gathering all the ingredients. Just cut open a MiHeSo Overnight Oats pack, add milk and refrigerate. That's it. Your breakfast is sorted for the next morning.
We recommend soaking overnight as it allows the oats, chia seeds, basil seeds, and raisins to hydrate well and soften the oats. But in the case when you forgot to soak overnight you can also make it immediately by adding piping hot milk to the contents of the sachet and keeping it covered for 15-20 mins until softened.
Yes, MiHeSo Overnight Oats are a great way to start your day full and energised. It comes in a pack of 7 single serve sachets to sort your breakfast and keep you going through the week.
You can definitely meal-prep and make your delicious overnight oats breakfast ahead. We recommend consuming prepared Overnight oats within 3 days for best taste.
Our Overnight Oats do not contain any refined sugar, but we have added jaggery for sweetness. We recommend you should consult your doctor if you need any expert advice in a medical condition before consumption.
Probiotics are the good bacteria naturally present in our gut which help the body to digest the food and fight infection by keeping the bad bacteria which makes us sick in check.
Eating a well-balanced diet rich in fiber every day helps to keep the number of good bacteria at proper levels. However, in our busy and hectic schedule, we usually skip on a balanced fiber rich breakfast meal.
Including Probiotic additionally as a part of our meal, is a great way to add good bacteria to our body.